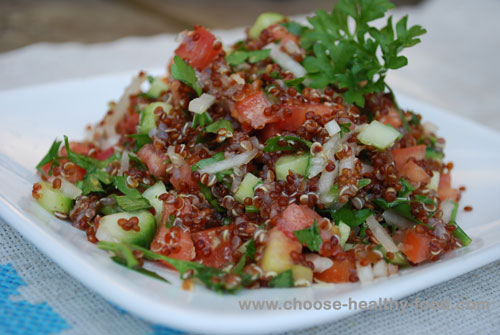 I came to love tabouli over this past summer. I know...you've loved it for years!!
This recipe comes from one of my very favorite cookbooks, "The Eat-Clean Diet Cookbook 2". If you don't have it, get it! And you might as well get the first one too! They are fabulous!
Tabouli
servings 6 x 1 1/4 cups
1/4 cup quinoa
1/2 cup water
1 bunch green onions, thinly sliced
1 English cucumber, seeded and chopped
1 cup chopped tomatoes
2 cups chopped curly parsley
1/2 cup chopped mint
1 clove garlic minced
1/4 cup fresh lemon juice
2 Tbsp extra virgin olive oil
1 tsp sea salt
1/8 tsp fresh ground black pepper
1. Combine quinoa and water in a small sauce pan and bring to a boil. reduce heat and cover to simmer for 10-12 minutes until almost all water is absorbed. Remove from heat, fluff, cover and let stand for 5 minutes to finish absorbing water an plump up.
2. In a large bowl, add green onions, cucumber, tomatoes, parsley, and mint. Add cooked qunioa. In a small bowl, whisk together garlic, lemon juice, olive oil, salt and pepper, and pour over tabouli in large bowl. Toss to combine.
Nutritional value per serving:
Calories: 59
Protein: 2 grams
Carbs: 9 grams
Fat: 7 grams
Fiber: 2 grams
Sodium: 327 grams
The only one who never makes mistakes is the one who never does anything. ~Teddy Roosevelt